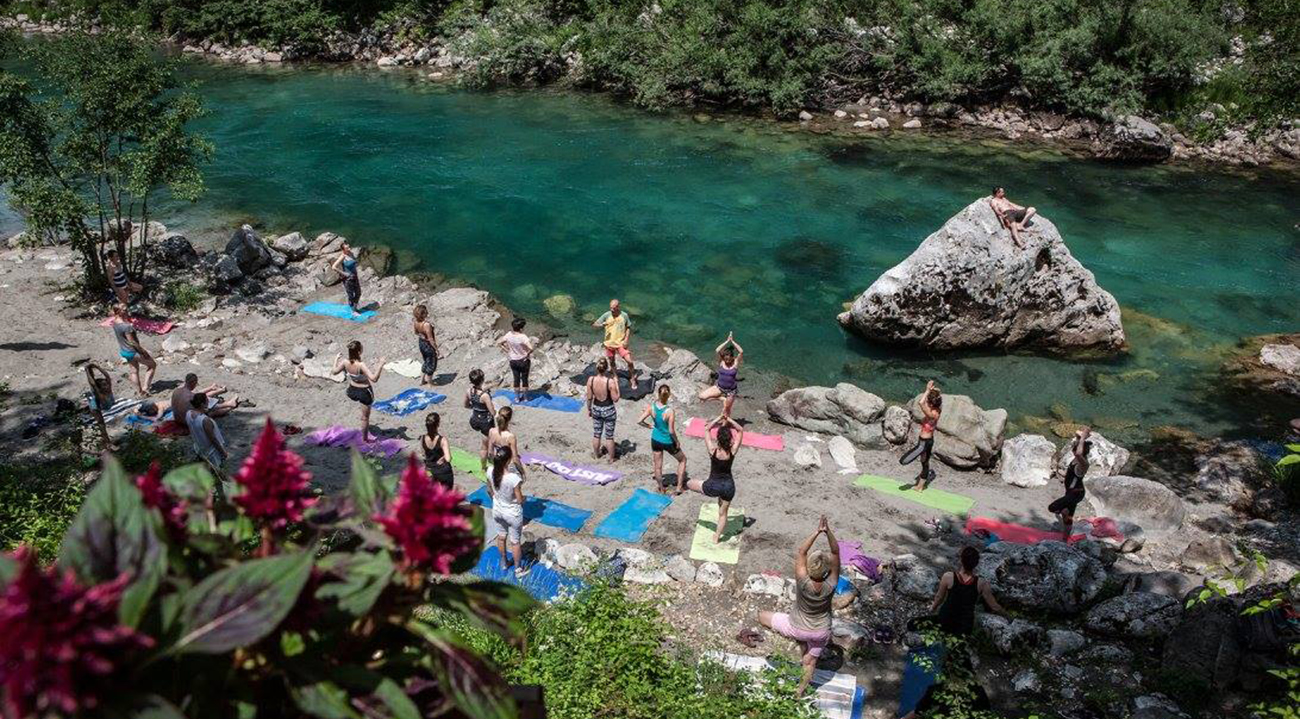 Yoga Camp June 2018
This year as well as the previous two, for you, we organize a Yoga camp on the coast of Tara, in the beautiful ambience of Camp Grab. Since we have enjoyed this truly beautiful and unique event so far, it is our task to be at the level that we have previously set up and make this camp unforgettable, too. Yoga Camp is an event where we will have an opportunity to learn a lot of new things, get some new acquaintances and, most importantly, deprive ourselves of stress and purify the soul and body. This time we prepared for you a surprise, this Yoga Camp will be led by an instructor from India – Dinesh.
Dinesh was born in a small village in western India, where he began his Yoga instructor career in the Himalayas, from where he started to spread the knowledge around the world. He has worked and traveled all over the world until he came to our country, where he decided to stay and teach us.
Our third Yoga camp on the coast of Tara will be an opportunity to get acquainted with Dinesh and learn a lot of new things and improve your knowledge.
The program of the camp includes the introduction of this ancient skill, morning and afternoon yoga exercises, breathing exercises, vegetarian food, meditation hours, walks, socializing and staying in nature. The camp is open to everyone, regardless of previous experience, age, sex, fitness, etc., so you can invite friends, colleagues, parents, partners, etc. – everyone is welcome. For those who have not practiced yoga until now, this will be a perfect opportunity to get to know it.
At the camp you will be surrounded by mountains and thick beech and oak forest with a view of Tara. Also, Grab has its own beach where you can enjoy the morning bathing and resting by the river. If you want to get away from the city bustle briefly and stay in a quiet place in unspoiled nature – this is the place.
As you can see, we have prepared a really interesting program, so do not hesitate to book your place on time.
The program includes: yoga classes, transport Niksic – Camp Grab – Niksic, two overnight stays, accommodation (tents, bungalows or rooms), full board and photos.
The price of the program with overnight in the tent is 70 euros.
The price of the program with overnight in the bungalow is 80 euros.
The price of the program with overnight in a triple room with a bathroom is 90 euros.
POSSIBILITY OF PAYMENT IN INSTALLMENTS. AYMENTS ON ACCOUNT NO: 565-1751-72. Any advance payment is non-refundable, unless the organizer cancels the event. Number of seats is limited to 30.
PLEASE TAKE: personal documents, yoga mats.
Departure is on Friday, June 22 at 15:00 in front of the Faculty of Philosophy in Niksic, and return on Sunday, June 24, at about 14:00.
The Yoga Camp is ideal for relieving stress and everyday concerns, as well as for the overall well-being of the body and soul.
Info and reservations by calling +382 67 220 233 and via e-mail natureloversmne@gmail.com.
The camp will be organized for a group of at least 10 people